Graduate Training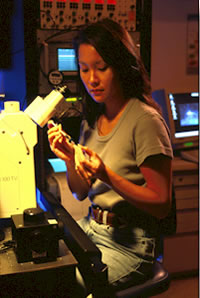 Neuroscience Graduate Program
Room MSB 7.262 - Telephone: 713.500.5193
Director: Andrew Bean, Ph.D. | E-Mail

For additional details see: Neuroscience Graduate Program Website
The department sponsors and conducts graduate training and education in the neurosciences. The program involves advanced graduate courses, intensive laboratory work, and the successful completion of a thesis that contributes significantly to the understanding of the nervous system. Graduate students participate in journal clubs, advanced graduate courses, laboratory training, seminar series, and attend local and national scientific meetings. Training encompasses a wide range of topics including learning; memory; nervous system plasticity; neural networks; the visual system; behavior; drug actions; and neural circuitry and transmission.
For admission to the Neuroscience Graduate Program, you can apply or obtain an application online from the website of the Office of the Registrar. For information regarding Neuroscience training opportunities available in the Neuroscience Program, contact:
Amanda Williamson [ E-Mail ]
Coordinator of Special Programs
Graduate Education Office
Department of Neurobiology and Anatomy
The University of Texas Medical School at Houston
P.O. Box 20708
Houston, Texas 77225-0708
Telephone: 713.500.5193
OR...
Andrew Bean, Ph.D.
Director, Neuroscience Graduate Program
The University of Texas Medical School at Houston
P.0. Box 20708
Houston, TX 77225
Telephone: 713.500.5619
FAX: 713.500.0621
E-Mail Dr Bean