Formation and impairment of memory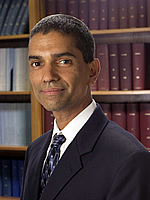 The research in my laboratory aims to delineate the biochemical and molecular changes that are critical for memory formation.  Short-and long-term explicit memories are dependent on the function the hippocampus, a structure within the medial temporal lobe.  Short-term memory depends on post-translation modification (e.g. phosphorylation) of proteins within neurons, whereas long-term memory requires de novo protein synthesis and morphological changes.  Using a multi-disciplinary approach, we disrupt or augment specific biochemical events within the hippocampus and other brain regions to determine the aspect of memory altered as a result of the manipulation.  In addition to storing short- and long-term memories, the prefrontal cortex is required for holding information "online" for a few seconds (referred to as working memory), which is used to guide goal-directed behavior.  Working memory is critical for decision making and coherent thought processes, and is often impaired as a result of normal aging, and diseases such as Parkinson's, Alzheimer's and schizophrenia.  It is not well understood if the biochemical and molecular mechanisms that underlie short- and long-term memory formation also play a role in working memory.  Our results indicate that while short- and long-term memory require protein kinase-mediated phosphorylation of cellular substrate proteins (e.g. channels, transcription factors), these activities in prefrontal cortex neurons impair working memory.  Interestingly, prefrontal protein phosphatase activity, vis a vis calcineurin, appears to be critical for this temporary form of memory.  One of our ongoing projects is to identify the substrate proteins that are dephosphorylated during working memory with the goal of developing agents that can be used to treat working memory impairments.
Head trauma can profoundly alter memory formation even in the absence of overt neuronal loss.  These impairments are thought to result from altered cellular and molecular changes that impair neuronal function and plasticity.   Interestingly, these changes are not static, but evolve over time after injury.  For example, we have shown that working memory impairments in the acute/subacute period of trauma is primarily caused by excessive GABA-mediated inhibition of the prefrontal cortex.  In the chronic phase, working memory impairments are no longer caused by this mechanism, but are associated with structural changes of the resident neurons.  The long-term goal of this research is to identify potential targets for therapeutic interventions to alleviate the memory disorders associated with brain injuries and other neurodegenerative diseases that are thought to be triggered by head trauma. 

Selected Reading
Dash PK, Kobori N, Moore AN. A molecular description of brain trauma pathophysiology using microarray technology: an overview. 2004 Neurochem. Res. 29:1275-1286.

Dash PK, Mach SA, Moody MR, Moore AN. Performance in long-term memory tasks is augmented by a phosphorylated growth factor receptor fragment. 2004 J. Neuroscience Research 15:205-216.

Dash PK, Hebert AE, Runyan JM. A unified theory for cellular and systems memory consolidation. Brain Res. Review 45:30-37.

Runyan JD, Moore AN, Dash PK. A role for prefrontal calcium-sensitive protein phosphatase and kinase activities in working memory. Learn Mem. 2005 Mar-Apr

Dash PK, Orsi SA, Moore AN. Histone deactylase inhibition combined with behavioral therapy enhances learning and memory following traumatic brain injury. 2009 Neuroscience June 13

Dash PK, Zhao J, Orsi SA, Zhang M, Moore AN. Sulforaphane improves cognitive function administered following traumatic brain injury. 2009 Neuroscience Letters Aug 28

Redell JB, Zhao J, Dash PK. Altered expression of miRNA-21 and its targets in the hippocampus after traumatic brain injury. 2010 J Neurosci Res Dec 8.

Redell JB, Moore AN, Ward NH 3rd, Hergenroeder GW, Dash PK. Human traumatic brain injury alters plasma microRNA levels. 2010 J Neurotrauma. Nov 23.

Dash PK, Orsi SA, Zhang M, Grill RJ, Pati S, Zhao J, Moore AN. Valproate administered after traumatic brain injury provides neuroprotection and improves cognitive function in rats. 2010 PLoS One Jun 30

Hill J, Zhao J, Dash PK. High blood glucose does not adversely affect outcome in moderately brain-injured rodents. 2010 J Neurotrauma Aug 27

Hergenroeder GW, Moore AN, McCoy JP Jr, Samsel L, Ward NH 3rd, Clifton GL, Dash PK. Serum IL-6: a candidate biomarker for intracranial pressure elevation following isolated traumatic brain injury. 2010 J Neuroinflammation March 11

Dash PK, Zhao J, Hergenroeder G, Moore AN. Biomarkers for the diagnosis, prognosis, and evaluation of treatment efficacy for traumatic brain injury. 2010 Neurotherapeutics Jan;7
Jeter CB, Hergenroeder GW, Ward Iii NH, Moore AN, Dash PK. Human traumatic brain injury alters circulating L-arginine and its metabolite levels: possible link to cerebral blood flow, extracellular matrix remodeling, and energy status. 2011 J Neurotrauma. Sep 26

Dash PK, Johnson D, Clark J, Orsi SA, Zhang M, Zhao J, Grill RJ, Moore AN, Pati S. Involvement of the Glycogen Synthase Kinase-3 Signaling Pathway in TBI Pathology and Neurocognitive Outcome. 2011 PLoS One. Sept 15

Zhao J, Redell JB, Moore AN, Dash PK. A novel strategy to activate cytoprotective genes in the injured brain. 2011 Biochem Biophys Res Commun. Mar 22.
Search PubMed for additional articles.